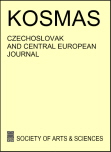 KOSMAS is a peer-reviewed, multidisciplinary journal that focuses on Czech, Slovak, and Central European Studies. It is published bi-annually by the Czechoslovak Society of Arts and Sciences (SVU).
Editor: Hugh Agnew, George Washington University, Washington D.C.
Managing Editor: David Z. Chroust, Texas A&M University
Book Review Editor: Mary Hrabík Šámal, Oakland University
Checks should be made out to "SVU." In the US and Canada, an individual one-year subscription to Kosmas is $32.00 ($27.00 for current members of the SVU, $43.00 for libraries and other institutions). In Europe, the rates are $37.00 ($32.00 for SVU members, $48.00 for institutions). For other international subscribers, the rates are $37.00, $32.00, and $48.00, respectively.
Requirements and stylistic guidelines for manuscript submissions are given on the inside back cover. Please send manuscripts for book reviews or suggestions for books to be reviewed to Mary Hrabík Šámal, Book Review Editor, Kosmas, 2130 Babcock, Troy, MI 48084, USA. E-mail: maruska@earthlink.net.