An illustrated talk by Helena Capkova, PhD
In-person!
Tuesday, FEBRUARY 28, 2023, at 7 pm
Bohemian National Hall
321 E 73 St, New York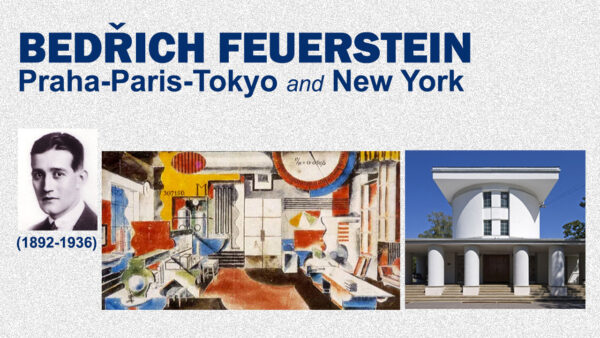 Bedrich Feuerstein was an influential member of the Czechoslovak and European avant-garde of the interwar period. He was a cosmopolitan figure, always on the move seeking inspiration and inspiring the rich network of his collaborators. He spent two years at the Perrets' atelier in Paris and four years working with Antonín Raymond in Japan. The key project of his career developed for Raymond was the St. Luke's Hospital in Tokyo. As a part of the design process, Feuerstein visited the US and studied the most progressive hospitals, such as the Presbyterian and Mt. Sinai in New York. The talk will introduce Feuerstein's rich and diverse design work focusing on his American research trip and its outcomes.
————————–
HELENA CAPKOVÁ, PhD, is a Czech Tokyo/Kyoto-based curator, researcher, and art history professor at Ritsumeikan University, Kyoto. She studied transnational visual culture and Japanese studies in Prague and London. As a PhD candidate, she collaborated on international and interdisciplinary research projects such as Forgotten Japonisme (2007-2010) and later Enchanted Modernities: Theosophy, Modernism, and the Arts, c.1875-1960 (2013-2015). Since 2010, she has published and lectured extensively about the specific nature of Japanese modernism and avant-garde, which she considers an inherent part of art history, traditionally perceived as Western. Her publications on this topic include " Believe in socialism!: Architect Bedrich Feuerstein and His Perspective on Modern Japan and Architecture (2016) and "Careless Shell "– Transnational exploration of Czechoslovak and Japanese Surrealisme (2015). In 2017, she designed a series about architect Antonin Raymond at the Tokyo Czech Center. The successful series led to the book Antonín Raymond in Japan (1948–1976), which she edited with architect K. Kitazawa.
In 2022, Dr. Capková curated an extensive exhibition, Bedrich Feuerstein, Architect: Prague-Paris-Tokyo and New York, at the National Technical Museum in Prague. There will be a few copies of the catalog available for sale at the event. Catalogs are also available online from the National Technical Museum: https://eshop.ntm.cz/z1511-bedrich-feuerstein-architect-prague-paris-tokyo
A recording of Dr. Capková's 2021 SVU NY Zoom talk about another important Czech architect Antonin Raymond is available on SVU NY YouTube Channel.
This event is organized by the Czechoslovak Society of Arts and Sciences (SVU), New York Chapter, with the support of the Bohemian Benevolent and Literary Association (BBLA).