A popular online mini-series presenting three-minute videos of Czech and Slovak artists and professionals based in New York and their reflections on how the challenging Covid reality affected their work and projects. This third edition will feature three accomplished creative New Yorkers: Tom Kotik, Maria Haršániová and Anna Rathkopf.
Live Q&A will follow the screening of three 3-minute videos.
Moderated by Christopher Harwood and Suzanna Halsey
REGISTER HERE to receive the Zoom link.
Free and open to the public.
Suggested donation $5 or more. Tax-deductible.
This event is organized by Czechoslovak Society of Arts and Sciences (SVU), New York Chapter, in collaboration with the Consulate General of the Slovak Republic, and with the support of Bohemian Benevolent and Literary Association (BBLA).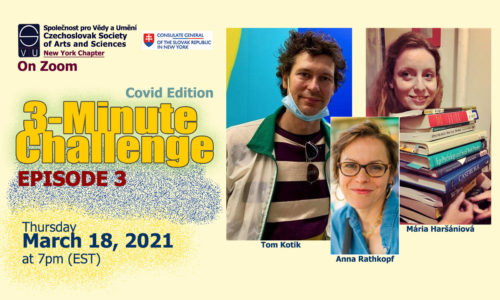 TOM KOTIK, born in Prague to an artistic family, is a Brooklyn-based artist, curator and musician. He has exhibited at Lesley Heller Workspace (NYC), Fundacio Juan Miro (Barcelona), Kostka Gallery (Prague) and The House of Arts (Brno). Since 2013, Tom has been a Curator at Large for Arts Brookfield in New York organizing exhibitions of emerging artists in New York and Los Angeles. He received his MFA from Hunter College in 2004 and has been a resident artist at Meet Factory (Prague), Art OMI, Yaddo, LMCC Workspace Program and the AIM Program at the Bronx Museum of Art. He uses silence as the starting position of his artworks. Many of his works deal with both the physical aspects of silence and materials from which non-functional replicas of audio equipment generate, as well as socio-political implications of silence itself. Both a practicing sculptor and (rock!) musician, he prefers making silent works that allow the viewers to compose as they observe. Thus sound, silence and form can find true harmony.
MÁRIA HARŠÁNIOVÁ, a writer under the pseudonym Maya Reyes, comes from the small town of Modrá in Slovakia. She earned her Masters of Social Work at St. Elizabeth College in Bratislava. Maria is currently finishing a master's degree at Silberman School of Social Work at Hunter College to obtain her SW license in the USA. She enjoys psychology and is interning as a group facilitator and therapist. Before settling in New York in 2016, she lived in England, Spain, The Netherlands and Cuba. Maria's novel Exit Havana was published in 2016 by the Motý? publishing house in Slovakia. The story is based on her experience as a breast cancer patient. Maria also enjoys photography and blogging.
ANNA RATHKOPF lived in Prague until 2005 when she met her American husband and moved to New York City. She received her MA in Jewish Studies from Charles University in Prague. Her love for reading and photography led her naturally to blogging. In her Czech blog Mama za vodou, she wittingly describes her expat life in her Brooklyn bilingual household. With her photographer husband, she formed a photography company. When she was diagnosed with breast cancer at age 37, they decided to create a photo project called HER2 to raise awareness about the possibility of cancer in people under 40 and the importance of relationships and love during adversity. The photos documenting Anna's journey to her recovery were published in several publications and are part of the Susan G. Komen rebranding campaign. In 2020, the Covid 19 pandemic became a new subject for the team and a new photography project. Community Heroes captures quiet heroes, mostly women, who volunteer to run food distribution centers in their neighborhood for people in need. Photos appeared in several articles and will be part of an exhibition. One of her photos was included in the ICPs exhibition ICP Concerned: Global Images for Global Crisis. Anna is also proud of her new role as a home teacher to her 1st grader, mastering songs about months or days and improving her math skills, as well.