Dear all,
We hope that you are healthy and safe in these trying times. We miss you!
Until we can meet again at the Bohemian National Hall in Manhattan, we invite you to visit our new YOUTUBE channel and view six events that you might have missed. The videos are divided into shorter segments for easier viewing.
They include Escaping from Czechoslovakia (2016), stories of New Yorkers who escaped from communist Czechoslovakia, and Posezeni: Remembering New York's "Little Bohemia (2018), an entertaining evening of memories of four old-timers who live(d) in the neighborhood of the Bohemian National Hall. Brilliant young Czech and Slovaks are featured in one edition of our popular 6-Minute Challenge series (Nov 2018). Enjoy the performances by Czech and Slovak Newyorkers -musicians and singers- in The Tribute to the Art of the Folksong (2018), and the concert 5+1:Jana Jarkovska (2019) by the gifted Czech flutist Jana Jarkovska presenting work of five young Czech women composers. Learn about the experiences of three Americans living in 1990s Prague (2019).
Please subscribe! Your free subscription will help us qualify for a customized name of the link. Feel free to leave us a comment.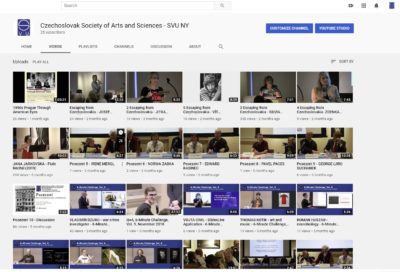 Your donations will help us make other videos available to the public.
Any donation made to the Czechoslovak Society of Arts and Sciences in New York is tax-deductible.
Please make your check payable to: Czechoslovak Society of Arts and Sciences NY, and
mail it to: SVU-NY, c/o Suzanna Halsey, 515 Avenue I, #1b, Brooklyn, NY 11230, or
you may use your credit card via our PayPal account.