Thursday, September 30th, at 7 pm
At Bohemian National Hall
321 E 73 St
New York City
FIRST IN PERSON EVENT SINCE MARCH 2020!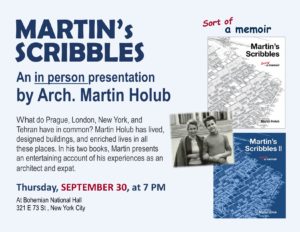 Reading by the author Arch. MARTIN HOLUB
Q&A will follow the presentation.
Moderated by Christopher Harwood
What do Prague, London, New York, and Tehran have in common? Martin Holub has lived, designed buildings, and enriched lives in all these places.
In his two books, Martin's Scribbles I and Martin's Scribbles II, he presents an entertaining account of his experiences as an architect and expat. He also provides a very personal and intimate witness of the world's recent history. Sometimes humorous, sometimes shocking, he shares memorable anecdotes and reflections that inform and amuse.
(The books are available at Amazon.com)
STAND BY FOR THE VIDEO RECORDING ON YOUTUBE!
________________________________________