The Consulate General of the Czech Republic in Los Angeles
together with
the Czechoslovak Society of Arts and Sciences – Los Angeles Chapter (SVU-LA)
cordially invite you to a screening of Czech drama film The Divine Ema (Božská Ema, dir. Jiří Krejčík, 1979) preceded by a short documentary film Edita about the renowned Czech/British actress Edita Brychta. Edita and her parents were close friends of Mr. Zdeněk Mahler, a recently late Czech screenwriter, writer and musicologist, who was also the screenwriter of The Divine Ema and also narrates the documentary. The evening is a tribute to his extraordinary personality and his work.
Both films are in Czech language only and will be shown on Sunday, September 15, 2019 at 4 PM at the Dick Clark Productions Screening Room In presence of Edita Brychta.
SVU-LA leased an intimate screening room in Santa Monica for this occasion. As the seating capacity of the theater is 25 seats we would like to kindly ask you to RSVP ahead of time. Please send your RSVP at: lidasbeach@gmail.com by Thursday, September 12, 2019. Please note that both films are in CZECH LANGUAGE ONLY.
SCREENING TIME:
Sunday, September 15, 2019 at 4:00 PM
LOCATION:
Dick Clark Screening Room
2900 West Olympic Blvd, Santa Monica, CA 90404 – You may check the map here.
RSVP:
RSVP is mandatory at: lidasbeach@gmail.com by Thursday, September 12, 2019.
PARKING:
Parking ONLY outside – entrance from Stewart St. or from Olympic Blvd. There are two entrances to the parking lot – one on Olympic and one on Stewart Street. Due to the train trucks, it is easier to enter from Olympic Blvd. The parking lot is located directly behind the Dick Clark Production building – You may check the parking lot here.
ABOUT THE FILM:
The Divine Emma (Božská Ema) is a Czech drama film directed by Jiří Krejčík. The opera lady singer Ema Destinnová (Bozidara Turzonovová) is in all her splendor on the American stage. But in Europe war is raging and she decides to return home to Bohemia. As an enthusiastic patriot, she carries over a small cape, on the back of which is a coding chart designated for the anti-Austrian revolt. Ema crosses the border and everywhere is welcomed by enthusiastic crowds. However, a denunciation results in her detention and her property is submitted to the examination. – NFA.cz
ABOUT ZDENĚK MAHLER
Zdeněk Mahler was born on December 7, 1928 in Batelov by Jihlava, Bohemia, Czechoslovakia. He is known for his work on Amadeus (1984), The Butcher of Prague (2011) and Svatba jako remen (1967).
After obtaining his doctorate in 1952 at the Faculty of Arts of Charles University, he worked briefly at the Czechoslovak Radio and worked as Minister of the Ministry Frantisek Kahud in the Ministry of Education of Czechoslovakia. Later he was also a dramatist of the Laterna magika theater and participated in the preparation of his presentation at the Expo 58 in Brussels.
Since 1960 he worked as a freelance writer, journalist and musicologist until his death. He wrote books on important personalities of domestic and world culture such as Dvořák, Smetana, Mozart and Masaryk, plays (in collaboration with directors such as Otomar Krejča, Jan Kačer and Jan Schmidt) as well as film scenes and radio and television games.
In 2003 he received a medal from Artis Bohemiae Amicis from the Minister of Culture and in 2011 the Ladislav Fuks Prize for the Lifetime Achievement of Czech Literature
He died on March 17, 2018 in Prague, Czech Republic. – Newsbeezer
ABOUT EDITA BRYCHTA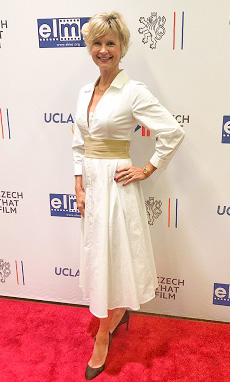 Edita was born in Prague but grew up in London, having fled the 1968 Russian occupation of Czechoslovakia. She comes from a family of renowned artists, her parents Jan and Lida Brychta have exhibited all over the world and her brother Alex Brychta is a worldwide published illustrator and recipient of an MBE.
She trained at LAMDA and went on to play leading roles in many theatre productions, among which was London's long running West End production of Daisy Pulls It Off, produced by Andrew Lloyd Weber. She then went on to star in several TV series and TV films, notably in the award winning The Escape and the TV BAFTA nominated The Britoil Affair.
The highly publicized role of Princess Diana in NBC's Behind The Palace Doors brought Edita to the US. She continued to work in many diverse roles alongside well-known actors such as Julia Roberts, Jim Carrey, James Garner, Angela Lansbury and worked under the direction of Milos Forman, Dick Donner and Mark Rydell amongst others.
Edita's language skills led her to star in a French TV series as well as two Czech movies and with her knowledge of accents and dialects, she has worked extensively in the world of voiceovers.