LOS ANGELES | APRIL 14-19, 2018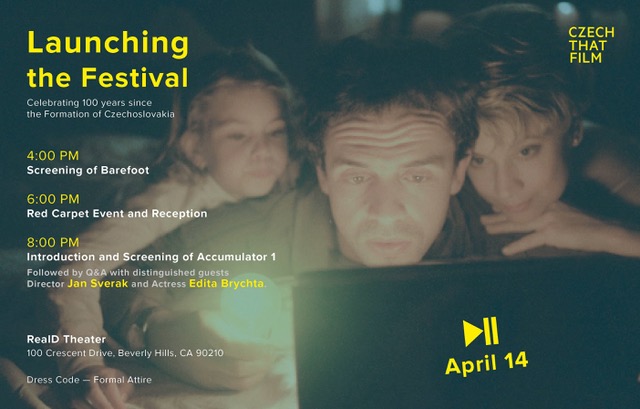 FESTIVAL LAUNCH
APRIL 14:
4 PM Soft Opening – Screening of Barefoot – the newest feature by Jan Svěrák
6 PM Red Carpet and Reception
8 PM Introduction and Screening of Accumulator 1
The Grand Opening of the festival presents a double-feature screening of films directed by Oscar-winning director Jan Svěrák.
The red carpet event will be a part of the official celebration of the 100 years since the creation of Czechoslovakia.
RSVP is mandatory by Wednesday, April 11, 2018 either online: https://czechthatfilm.ticketbud.com or via email at protocol_losangeles@mzv.cz
The full program of the festival is attached below and also available at www.czechthatfilm.com
LOCATION:
RealD Theater – 100 N Crescent Dr, Beverly Hills, CA 90210
ABOUT THE FILMS:
BAREFOOT | PO STRNIŠTI BOS
Directed by Jan Svěrák, 2017, 111 min.
BAREFOOT, the newest feature from the critically acclaimed father/son duo behind the Oscar®-winning KOLYA is a heartwarming coming-of-age story set in Czechoslovakia during the Nazi occupation. BAREFOOT is a prequel to ELEMENTARY SCHOOL which was nominated for the Academy Award for Best Foreign Language Film in 1991 and was the very first collaboration of this popular team.
ACCUMULATOR | AKUMULÁTOR 1
Directed by Jan Svěrák, 1994, 102 min.
A premiere of the newly restored sci-fi parody directed by Jan Svěrák takes you into the world behind the TV screen, where it is swarming with human images living from our energy. This wild comedy remains one of the most popular films in Czech cinema and obtained cult classic status.
ABOUT THE DIRECTOR:
Jan Svěrák is one of the most higly acclaimed Czech film directors today. He became internationally lauded for his film KOLYA, which received the Academy Award for Best Foreign Language Film in 1996. He previously received an Oscar nomination for his film ELEMENTARY SCHOOL (Obecná škola, 1991). He won the Czech Lion Award for Best Direction three times, the Czech Republic's highest honor for a director. He often works with his father, renowned screenwriter Zdeněk Svěrák, who also played a number of roles in his films.
PARKING:
A parking structure is accessible at 100 North Crescent Drive just north of Wilshire Blvd. Attendees can park in any open spot.
THANK YOU:
Czech That Film 2018 would like to thank the invaluable contributions of all partners involved, especially ELMA. Without their support, the festival would not have been possible. The festival is sponsored by Rusnak Auto Group, Milk and Honey Pictures, Prague Studios, Czechoslovak Society of Arts and Sciences in Los Angeles, Czech Centers, R.Jelinek, Avast Foundation, Pilsner Urquell, Solo Film Company. Special thanks go to Mr. Juraj Vojnik and Mr. Fabio Banegas.
PROGRAM DOWNLOAD (PDF):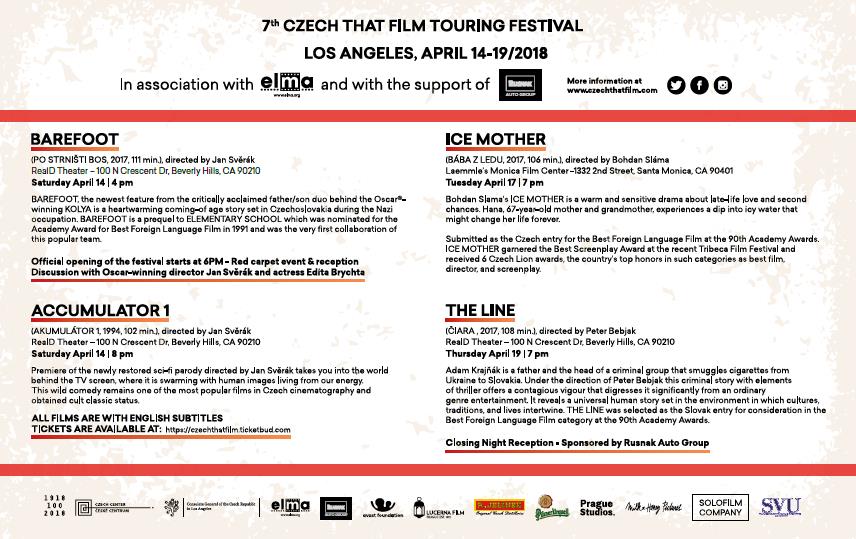 For more information, please visit the official website of the festival at www.czechthatfilm.com