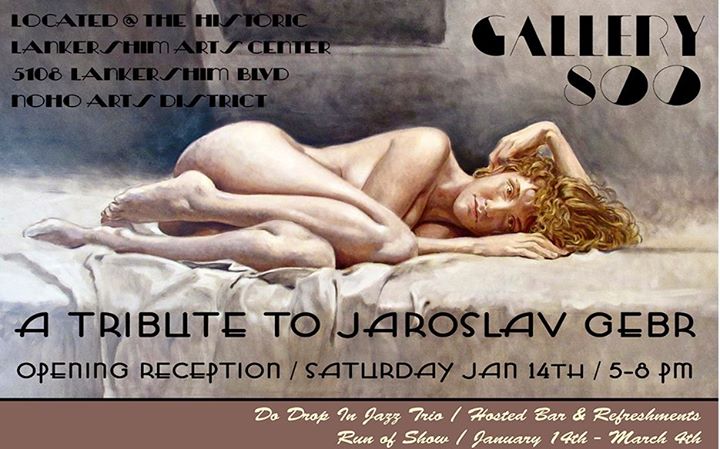 Jaroslav 'Jerry' Gebr, the legendary Scenic Artist behind some of Hollywood's greatest films, will be honored by the Art Directors Guild's Gallery 800 in a special exhibit entitled "A Tribute to Jaroslav Gebr."
The exhibit promoted by SVU-LA opens with a hosted reception on Saturday, January 14, 2017 from 5:00 p.m. to 8:00 p.m. and runs through March 4, 2017.
Gebr's paintings appeared in such films as "My Fair Lady," "Camelot" and "The Sound Of Music" and he's best known for his full-scale reproduction of Michelangelo's Sistine Chapel for "The Shoes Of The Fisherman." The exhibit will showcase numerous pieces of his original artwork.
A proud member of the Art Directors Guild since 1972, Gebr was head of the Scenic Arts Department at Universal Studios and worked with some of the biggest names in Hollywood including Steven Spielberg, Clint Eastwood, Alfred Hitchcock and Vincente Minnelli.
Jaroslav was a prodigy from a small village outside of Prague. He escaped Communist-occupied Czechoslovakia in 1949 and despite the horrors of World War II, studied at art academies in Prague, Munich and Florence. His journey took him from painting portraits and frescoes in Bogota, Columbia to murals, portraits and visual effects in Hollywood.
His paintings also appeared in films such as "Xanadu", "Scarface", "Batman", "Star Trek" and "The Princess Diaries," and he created the title cards for "The Sting" and "Dune." His television work includes "The Wild Wild West," "M**der She Wrote," "Amazing Stories," "Columbo", "24" and most notably the pilot episode of Rod Serling's "Night Gallery."
Jerry Gebr's art is presented by Thomas Gebr, SVU member, at www.gebrart.com