Wednesday, June 21 at 7pm, 2017
A farewell chat with the Consul General of the Czech Republic
Join us in thanking Martin for his friendship and continuous support, and in wishing him happy sailing to his new destination.
Moderated by Chris Harwood
Come learn Martin's amazing career trajectory. From a boy growing up in Pardubice to a university student in Prague. From a dissident under communism to mayor of the regional metropolis Hradec Králové. From a UN mission in Kosovo to elections in Ukraine and rebuilding in Iraq, to joining the Ministry of Foreign Affairs in 2004. From a trade post at the Czech Embassy in Washington to the Consul General in New York in 2012.
Martin shared his Kosovo experiences in his book, Kosovo na vlastní kuži (Kosovo under My Skin), which was published in 2001 with an introduction by Václav Havel, and he wrote regular columns in MF Dnes daily about Iraq's reconstruction in 2003. He speaks five languages. Martin and his wife Zuzana are both avid and accomplished photographers. We are encouraging them to publish a book of photographs from their time in New York.
A light reception will follow the Q&A.
RSVP: newyork@svu2000.org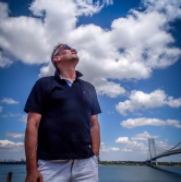 Photo by Zuzana Dvoráková