A talk by MICHAEL BECKERMAN, New York University, Music Department
In person!
Monday, NOVEMBER 29 at 7 PM
At Bohemian National Hall
321 E 73 St, 3rd floor, New York City
Musicologist and author MICHAEL BECKERMAN presented the remarkable Czech composer, phenomenal pianist and elemental musician Jaroslav Ježek (1906-1942) and his last years in New York where he lived in exile after fleeing the Nazi occupation of Czechoslovakia in 1939. Professor Beckerman discussed Ježek's final composition, the Piano Sonata, which he completed shortly before his death in 1942 in New York.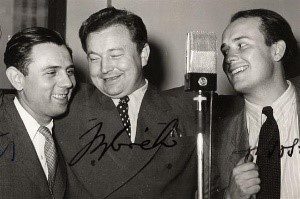 In the USA, Jaroslav Ježek performed for Czech Americans and expatriates with Jiri Voskovec and Jan Werich, his fellow exiles and protagonists of the popular Prague's political antifascist revue troupe, the Liberated Theater. (Photo from the left: Ježek-Werich-Voskovec)
MUSICAL GUESTS
The brilliant pianist Siyumeng Wang, a native of Beijing and current student at The Juilliard School performed selections from Ježek's Piano Sonata. Prague-born and Berlin-based jazz singer Martina Barta performed five of Ježek's songs in Czech accompanied by Francesco Pollon from Treviso, Italy. Both accomplished artists are currently students at the Manhattan School of Music. (See below the English translation of the songs.)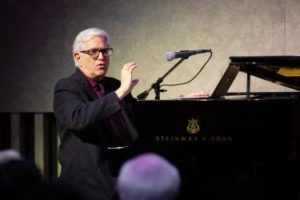 MICHAEL BECKERMAN is Carroll and Milton Petrie Chair and Collegiate Professor of Music at New York University and a Vice-President of the Dvorak American Heritage Association (DAHA). He has written many studies and several books on Czech music topics, including New Worlds of Dvorak (W.W. Norton, 2003), Dvorak and His World (Princeton University Press, 1993), Janacek and His World (Princeton, 2004), Janacek as Theorist (Pendragon Press, 1994), and Martinu's Mysterious Accident (Pendragon, 2007), as well as articles on subjects such as Mozart, Brahms, film scoring, music of the Roma (Gypsies), exiled composers, and music in the camps. Dr. Beckerman has been a frequent contributor to The New York Times and was a regular guest on Live from Lincoln Center and other radio and television programs in the United States, Europe, and Japan. He is a recipient of the Dvorak Medal and the Janacek Medal by the Czech Ministry of Culture, and is also a Laureate of the Czech Music Council; he has twice received the Deems Taylor Award. He served as a Distinguished Professor at Lancaster University (2011–2015) and was The Leonard Bernstein Scholar-in-Residence at the New York Philharmonic (2016-17). In 2014, Dr. Beckerman received an honorary doctorate from Palacký University in the Czech Republic. This year, he was awarded the Gratias Agit Award from the Czech Ministry of Foreign Affairs and the Harrison Medal from the Society for Musicology in Ireland.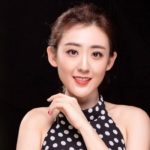 SIYUMENG WANG, piano
Born in Beijing, China, pianist Siyumeng Wang is a rising star in the international music scene. A winner of the Gina Bachauer Competition, Leonore Kraeuter Scholarship award, and Kovner Fellowship, Siyumeng studies with Veda Kaplinsky and Julian Martin at Juilliard. Currently working towards the Master in Music degree, Siyumeng earned the B.M. degree in 2021, won prizes at Oberlin International Piano Competition, Beijing All-Star Cup Piano Competition, Hope Cup Piano Competition, studied at Music Academy of the West, Manchester Music , Piano Texas, and Belvoir Terrace. Siyumeng performed at Alice Tully Hall, David H. Koch Theater Lincoln Center, and throughout China. She performs for audiences in health care facilities and community-based organizations as a member of the Gluck Community Service Fellowship Program. www.siyumeng.com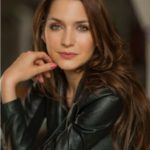 MARTINA BARTA, voice
Martina Barta is a multitalented singer and musician born in Prague, based in Berlin, performing in diverse music projects at national and international music festivals and venues worldwide. In 2016, she received her Bachelor of Music degree from the Jazz Institute at the Universität der Künste in Berlin, where she took vocal lessons from Prof. Judy Niemack and Prof. David Friedman. In 2017, Martina represented the Czech Republic at the Eurovision Song Contest in Kyiv. She is currently pursuing a Master of Music degree at Manhattan School of Music, where she takes classes in the Jazz Arts Masters Program with Prof. Theo Bleckmann. Full bio. Facebook
FRANCESCO POLLON, piano
Francesco Pollon is a pianist, composer, and educator born in Treviso, Italy. Since the age of fifteen, he has been on stage as a musician, performing throughout Italy and in Croatia, Israel and Palestine, Qatar, Poland and Romania. He played with the jazz legend Chick Corea in Vicenza and with the resident band at the prestigious jazz club The Club at St. Regis in Doha, Qatar. Francesco is also an accomplished classical guitar player. Francesco received his M.A. in Jazz Piano Performance from the Conservatory of Venice in 2018 and the Best Instrumentalist Award at the 2019 Sibiu Jazz Competition. In 2020, he published his debut solo piano album Catch Me. Since September 2021, Francesco has pursued his studies at Manhattan School of Music in New York. www.francescopollon.com
This event is organized by the Czechoslovak Society of Arts and Sciences (SVU), New York Chapter, in association with the Dvorak American Heritage Association (DAHA) and with the support the Bohemian Benevolent and Literary Association (BBLA).
FIVE JEZEK's SONGS in ENGLISH
(c)2022 Translation by Suzanna HALSEY [Improvements are welcome-)]
1. DAVID AND GOLIATH [David a Golias]
People are nasty to each other,
It's a dog-eat-dog world.
Just look at them! One must lament!
A giant is beating up a little guy,
thinking he'll win.
Just let's sit nicely in a chair and read the Bible.
The whole story is in there:
The Book of Samuel tells us
how a great misfortune befell the Jews,
how the lousy Philistines were not lazy to go to a war,
until they met David, that is.
Willy-nilly did David go off to war,
carrying little cakes for his brothers from afar.
As he marched, he practiced his throw.
And just in case, he put three rocks in his bag.
"Hey, hey, where, you think, you're going? You midget!"
Goliath provoked him this way,
but David just politely saluted him.
But when the giant spat in his eye,
David turned and swung his slingshot around.
Well, you've started it, so now you'll get it!
You were big, but I've got courage!
And so now, what's left of Goliath?!
2. HAT IN THE BUSH [Klobouk ve krovi]
The wind is blowing across the desert
driving a hat across the sand.
It drove him into the thicket,
the old black hat.
Where's the head,
which wore that hat?
Was it black or blond?
To whom did it belong?
Who disappeared in the desert?
Where did he go and to where?
What problem did he have?
so that he was alone in the desert?
Only sand-covered footprints.
The old hat in the bush.
No one will understand.
No one will find out.
Who disappeared in the desert?
Where did he go and to where?
What problem did he have?
so that he was alone in the desert?
Only sand-covered footprints
and the old hat in the bush.
No one will understand.
No one will find out.
3. HEAVEN ON EARTH
I don't believe in Nirvana,
Olympus, or Heaven.
When someone complains about the world,
I always curse.
I don't care for Infinity
with all the stars.
A few beautiful years somewhere on Earth,
that's enough for me.
When I tell you
that Heaven is on Earth
I'm right, believe me.
I will give life for life,
although I don't like dying, and
I'm not alone, believe me.
For the one who wants to live,
there are so many marvels in the world!
And to make Heaven from them, it's up to you.
Only you, believe me.
It depends when the time comes
when Heaven starts for us on Earth.
For the one who wants to live,
there are so many marvels in the world!
And to make Heaven from them, it's up to you.
Only you, believe me.
It depends when the time comes
when Heaven starts for us on Earth.
It depends when the time comes
when Heaven starts for us on Earth,
when Heaven starts for us on Earth.
4. DARK BLUE WORLD [Tmavomodry svet]
It's not enough that it is dark,
But I also do not see.
I know that the darkness is everywhere around,
but I do not see it.
I only see that I do not see anything.
If I admit that I see
I should be seeing more.
My head, torso, two arms, legs
I do not see them.
So, where did my so far perfect vision disappear?
Everything is covered with an impenetrable blue cloud,
Dark blue cloud.
I do not know where I shall go and how.
And the fact that a dark blue hat sits on my head,
that is an illusion.
I am not hungry, so what good is it that I have an appetite.
What good it is that even when I am not hungry,
my soul is sad.
Five weeks, seven hours, three months and six years
I have observed the melancholy world,
The dark blue world.
5. LIFE IS JUST A COINCIDENCE [Zivot je jen nahoda]
Life is just a coincidence.
Once you're down, then you're up.
Life flows like water
and death is like the sea.
Everyone makes it to the sea,
someone sooner and someone later.
Who loves in his life,
shall not lose hope.
Only when you see miracles in life,
which only love can do,
goldfish will fly up above the clouds.
Then you'll understand
that life is like water,
which love turns into wine.
That love is a coincidence
and without it, there is no happiness,
and without it, there is no happiness.