Thursday, DECEMBER 16, 2021, at 7 PM EST
Bohemian National Hall, 321 E 73 St, New York City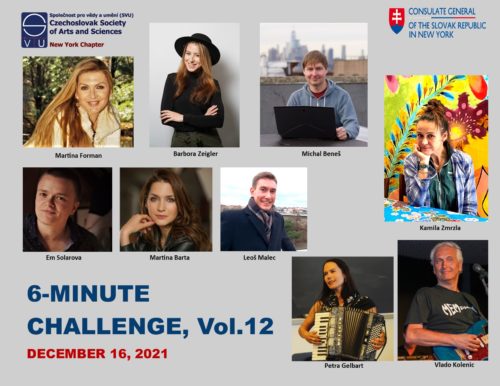 A popular series since 2011.
Meet Czech and Slovak artists, professionals, students, and scholars who will be challenged to introduce the subject of their project, research, or studies in a short presentation limited to six minutes and in the language appropriate for a non-expert audience. In English.
Moderated by Christopher Harwood, Ph.D., Columbia University
Presenting Martina Barta (jazz singer), Michal Beneš (Covid video game), Martina Forman (author), Petra Gelbart (music therapy), Vlado Kolenic/strong> (musician/restaurateur) Leoš Malec ( financial analyst), Em Šolarová (nonbinary linguistics), Barbora Zeigler (photography), and Kamila Zmrzla (visual artist)
Organized by the Czechoslovak Society of Arts and Sciences (SVU/NY), New York chapter, in association with the Consulate General of the Slovak Republic, and with the support of the Bohemian Benevolent and Literary Association (BBLA).