ONLINE EVENT on Zoom on Wednesday, NOVEMBER 18 at 7 pm (EDT)
Please REGISTER HERE to receive the link to the Zoom event. We will email you the link 2 days before th eevent.
An online mini-series presenting three-minute videos of Czech and Slovak artists and professionals in New York and their reflections on how the Covid reality affected their work and projects. In English
EPISODE 2 will feature three accomplished creative New Yorkers, each in a different field: Daniela Vancurová (pre-school teacher and consultant), René G. Vašícek (writer and educator), and Pavel Kraus (visual artist).
Moderated by Christopher Harwood, Q&A will follow the presentations.
Have a beverage of your choice by your side to toast to New York's better future.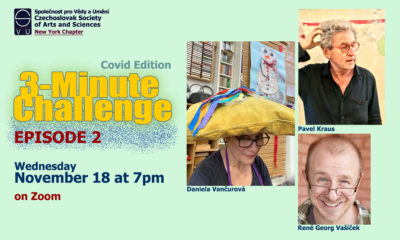 Daniela VANCUROVÁ, born in Prague, received her MA from Teachers College at Charles University in Prague in 1987 and additional BA credits from Manhattan Community College. Since 1988 she has worked at Brooklyn Free Space, a cooperative preschool implementing a learning-through-play philosophy, recognizing each child's individuality, learning style and interest. Due to the Covid 19 epidemic, the school had to reorganize and reinvent its unique style. For medical concerns Daniela was furloughed until the virus is under control. She misses her little "jitterbugs" and hopes to return soon to the school. But meanwhile, she appreciates having the time to pursue her interest in Japanese cuisine, creating finger puppets or taking walks.
René Georg VASICEK was born in Austria in 1969 to Czech parents defecting from Czechoslovakia. He grew up in the pine barrens of Eastern Long Island and has lived in New York City since the Nineties. His writing has appeared in Wigleaf, Hinterland, Bellevue Literary Review, Western Humanities Review, Gargoyle, Mid-American Review, Barrelhouse, Post Road, and elsewhere. René earned an MFA at Sarah Lawrence College and was awarded an NEA fellowship. He is an adjunct lecturer at Lehman College in the Bronx and at BMCC in Manhattan. He lives in Astoria, Queens with his wife and two sons. His debut novel The Defectors is loosely based on experiences of Czechs and Slovaks in a totalitarian regime. He also enjoys boogie-boarding and the search for extraterrestrial intelligence in the Cosmos.
Pavel KRAUS, a native of Pilsen, emigrated after the Soviet invasion in 1968 and eventually arrived in the USA. He received his MFA from The School of The Art Institute of Chicago in 1974. Since 1984 he has been residing and working in New York City and since 2000, at his studio in DUMBO Brooklyn. Over the past 40 years, he has been focusing on an extensive body of work entitled "Sex, Death, Offerings". These works incorporated variations of media/techniques including the ancient pierre dure technique and the marriage of organic/inorganic elements. Pavel's works can be found in private collections and have been exhibited extensively nationally and in Europe and reviewed and published in various publications, including Art in America. In 2014, Pavel had a solo exhibition "Enigma" at the Stephen Romano Gallery in DUMBO, Brooklyn, curated by David Ebony. His 40-Year-Retrospective was reviewed in David Ebony's Top Ten New York Gallery Shows of 2016. From 2016 to 2018 Kraus completed five solo shows culminating in Roma in January 2018 at the Long Island University Brooklyn campus. During the epidemic, he continues going to his studio and working on new projects inspired by the distant past.
Our YouTube videos were made available to you thanks to previous grants from the Czech Ministry of Foreign Affairs and BBLA, and donations from some of you.
Please consider making your tax-deductible donation HERE.
Thank you!
Czechoslovak Society of Arts and Sciences (SVU)
New York Chapter