DECEMBER 14 at 7 pm
Bohemian National Hall in Manhattan
Since 2014, this signature program of SVU NY has challenged scholars, scientists, students, artists, and professionals of Czech and Slovak descent to introduce their work, project, or subject of their research or studies in a short presentation limited to six minutes. In English.
Moderated by Christopher Harwood, Ph.D., Columbia University
Organized by the Czechoslovak Society of Arts and Sciences (SVU/NY), New York chapter, in association with the Consulate General of the Slovak Republic, and with the support of the Bohemian Benevolent and Literary Association (BBLA).
GUEST PRESENTERS
Ivana Andersen (visual art), Katerina Dvorakova Mankova  (photography), Eva Giannone  (baking and Energy USA, natural medicine), Roman Lewkowicz (folk dance Limboracik), Katerina Lu (ballroom dance), Jakub Mihalik, PhD (Fulbright Scholar at New York University – Philosophy), Michal Racyn (Fulbright PhD student at Columbia University – Slavic Studies), René Georg Vasicek (creative writing & experimental writer), and Otto Zizak, Jr.  (restaurateur, musician, farmer, generalist).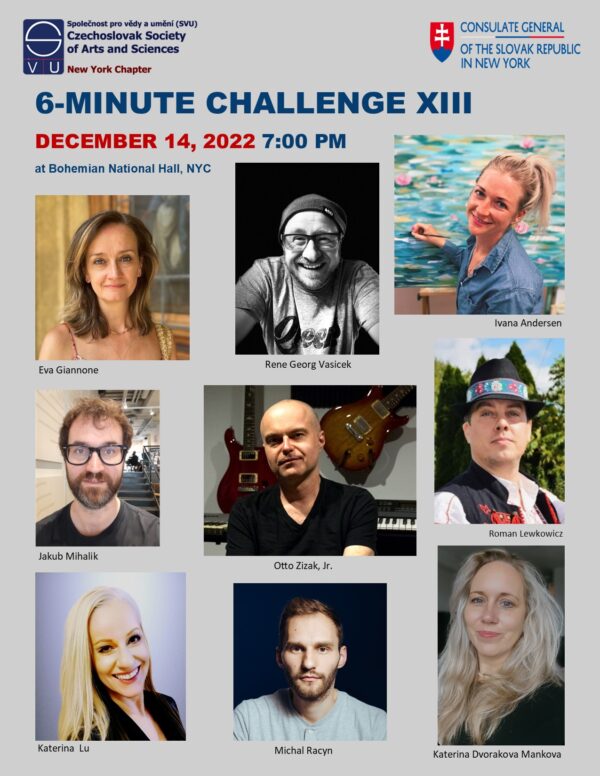 Free and open to the public.
Suggested donation of $5.00
Seating is limited.
REGISTER HERE!
Click here for the program notes with speakers' bios.
Last year's edition of The 6-Minute Challenge, Vol. 12 in 2021, is available on our YouTube Channel.