A talk by Filip Šír, National Museum in Prague
Friday, SEPTEMBER 30 at 7 pm
Bohemian National Hall, Cinema
321 E 73 Str, Manhattan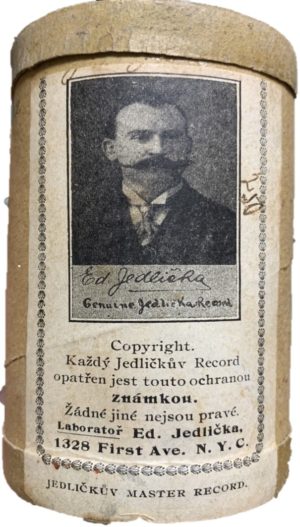 Free and open to the public
Suggested donation of $5.00
Wearing a face mask is recommended.
Filip Šír will present the story of Edward (Ed) Jedlicka, a Czech jeweler and watchmaker who emigrated to the United States in 1895 and settled in the Czech neighborhood on Manhattan's Upper East Side. Jedlicka was a man of many interests and talents. He created a silver branch of a linden tree, which in 1901 was presented by an association of sixty Czech societies to the famous Czech violinist and composer Jan Kubelik, when he performed for the first time at Bohemian National Hall in New York City.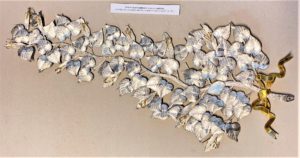 Jedlicka was passionate about emerging photography and sound recording technologies and was the first to use them to document the Czech community's rich cultural life in New York City. He took photographs of Alphonse Mucha's studio and the Bohemian National Hall, among others. In 1903, he registered his label Ed.Jedlicka and produced over five hundred two-minute brown wax cylinder recordings of Czech songs and stories.
In 2019, the University of Iowa received a donation of Jedlicka's brown wax cylinders. Several cylinders pre-date the label registration or are the only copy of a particular title, making them exceedingly rare.
Now, come hear recordings made 120 years ago just two blocks from the Bohemian National Hall!
Filip Šír is an expert sound archivist at the National Museum in Prague and the principal researcher for the New Phonograph: Listening to the History of Sound project, which studies early Czech sound recordings in the Czech Republic and the USA. He received his degree in Library Sciences from Charles University and is a member of the International Association of Sound and Audiovisual Archives (IASA). In 2016, he received the INFORUM 2016 Prize for the Virtual National Phonotheque project. In 2017, with Gabriel Gössel, he was awarded the ARSC Certificate of Merit for his contribution to the Recorded Sound in Czech Lands research project. He conducted research at libraries worldwide and lectured at Eda Kuhn Loeb Music Library at Harvard University, New York University, and elsewhere. He also conducted a two-day workshop at Fonoteca Nacional de México. He will be joining us on his way from the international IASA conference in Mexico, where he presented a paper on Voskovec&Werich, Transatlantic Battlefront: Czech Comedians Fight Hitler in the Shortwave Trenches.