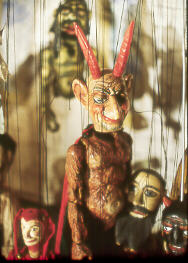 A Special Performance at SVU Conference
(June 3-5) at the Bohemian National Hall
JOHANNES DOKCHTOR FAUST
The Petrifying Puppet Comedye.
Starring 100-year old Czech puppets speaking English.
SUNDAY, JUNE 5 at 3 pm
FREE ADMISSION
Bohemian National Hall
321 E 73rd Street (between 1st & 2nd Avenues)
The story of the learned Johannes Faust, who sold his soul to the devil for ultimate knowledge.
The staging incorporates age-old technical tricks, fire and thunder, hellish gargoyles and underwater creatures.
With marionette theater, the Czechs brought commedia to the Faustian canon. They introduced the jester, Pimprle (Kasparek), into the story (his appearance in about half of Czech marionette plays gave the name "Pimprle Theater") as well as three other clown characters: Faust's comic guards, Dumpling and Bigcheeze, and his German valet, Wagner.