Wednesday, March 28, 2012 at 6:30 PM
A slide lecture by Prof. Eugen Strouhal, PhD, DrSc.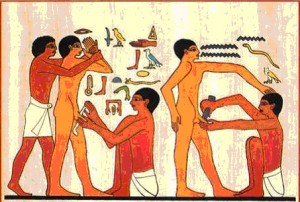 In cooperation with the Czech Consulate in New York
This lecture explored the beginnings of scientific medicine in ancient Egyptian civilization. Thirteen ancient medical papyri recorded the level of the empiric knowledge of anatomy, patho-physiology and therapy. Prof. Strouhal presented the amazingly advanced surgical practices in ancient Egypt while the internal medicine and gynecology still relied mostly on religious rituals and remedies of plant, animal and mineral origin.
Prof. Strouhal is a leading expert on Egyptian medicine. He has degrees in medicine, archaeology and anthropology. He worked for 24 years at the Náprstek Museum in Prague and taught anthropology at West Bohemian University in Pilsen. He lectures paleo-pathology and history of medicine at Charles University Medical School in Prague.