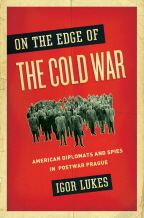 Monday, May 7, 2012 at 7:00 PM
American Diplomats and Spies in Postwar Prague:
Was the 1948 Communist Takeover Inevitable?
A lecture by Professor Igor Lukes, PhD.
In cooperation with the Consulate General of the Czech Republic in New York.
Professor Lukes will explore the communist conquest of Czechoslovakia from the perspective of American diplomats and intelligence officers who served in the U.S. Embassy from the spring of 1945 to 1949, as presented in his latest book On the Edge of the Cold War: American Diplomats and Spies in Postwar Prague, just published by Oxford University Press. The book will be available for purchase at the event.
Dr. Igor Lukes teaches history and international relations at Boston University.  He has written about Europe between the world wars, the Cold War, intelligence, and contemporary developments in East Central Europe and Russia.  His publications include Rudolf Slansky: His Trial and Trials and Czechoslovakia, Between Stalin and Hitler: The Diplomacy of Edvard Benes in the 1930s. Lukes is also a frequent political commentator on Radio Prague and Czech Television.