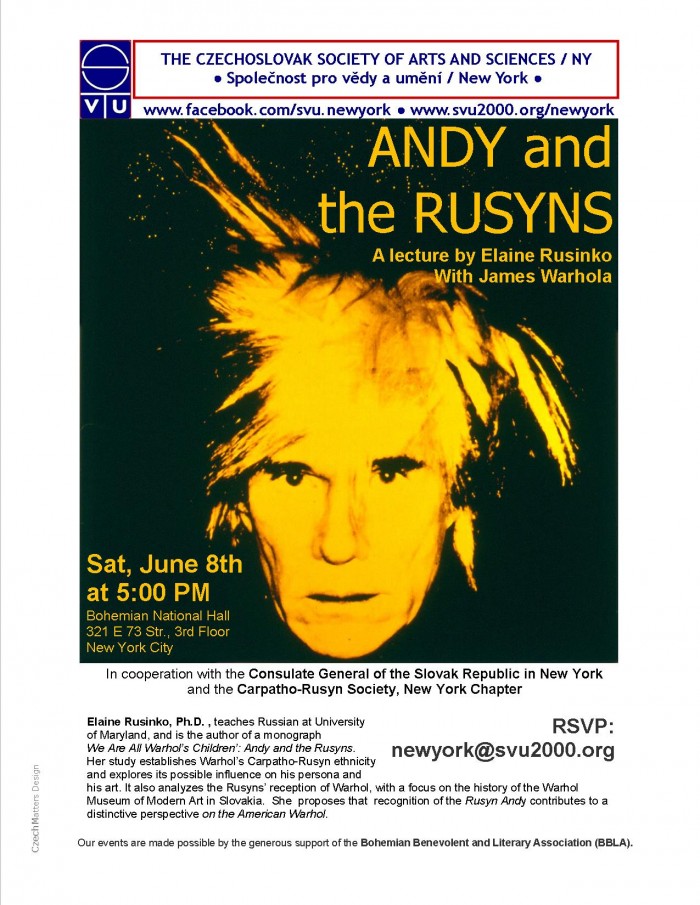 A lecture by Elaine Rusinko
With James Warhola
Elaine Rusinko, Ph.D. , teaches Russian at University of Maryland, and is the author of a monograph We Are All Warhol's Children: Andy and the Rusyns.
Her study establishes Warhol's Carpatho-Rusyn ethnicity and explores its possible influence on his persona and his art. It also analyzes the Rusyns' reception of Warhol, with a focus on the history of the Warhol Museum of Modern Art in Slovakia. She proposes that recognition of the Rusyn Andy contributes to a distinctive perspective on the American Warhol.
James Warhola, nephew, is an accomplished children's book author. He also serves as a consultant to the Andy Warhol Museum of Modern Art in Slovakia, near the Warhola's ancestral village of Miková.
Organized by the Czechoslovak Society of Arts and Sciences NY
In cooperation with the Carpatho-Rusyn Society, New York Chapter, and the Consulate General of the Slovak Republic in New York.