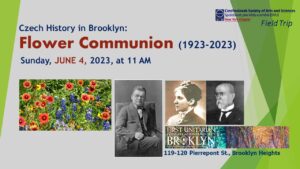 June 4, 2023, at 11 am
First Unitarian Congregational Society
119-120 Pierrepont St. @ Monroe St.
Brooklyn Heights, NYC
NORBERT CAPEK'S FLOWER COMMUNION
We joined the First Unitarian Congregational Society in Brooklyn to commemorate the 100th anniversary celebration of the Flower Communion ceremony introduced in 1923 by Dr. Norbert Capek, founder of Czech Unitaria in Prague. It was the home church of Charlotte Garrigue Masaryk (1850-1923), the Brooklyn-born First Lady of newly formed Czechoslovakia in 1918. Both her husband, Tomáš Masaryk, and her son Jan spoke from this church's pulpit. Charlotte Garrigue Masaryk was instrumental in developing close ties of this church with the Czechoslovak Unitaria. The ninth reverend of this Brooklyn church, John Howland Lathrop, headed a relief program in Czechoslovakia following World War II. You can find some memorabilia and photos in the church. A glass window depicting Jan Hus was donated by Alice Masaryk.
We were joined by Mr. Scott Fredrick, a great grandson of Norbert Capek!
The full-service streaming on Facebook.
15:40 Singing the hymn Mother Spirit by Norbert Capek
34:52 Rev.Meagan Henry about Norbert Capek
1:25:00 Singing a Czech folk song Aj lucka, lucka , in Czech!
In Czech
Story of the Flower Communion made in 1993 for Radio Free Europe by Suzanna Pakesova Halsey. She added images to the original audio-only recording.