TEN TA TO PROJECT DESCRIPTION in ENGLISH click here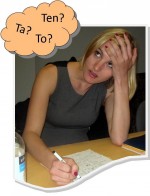 AN UPDATE!
We are happy to report that much progress has been achieved in both, creating the app and raising some of the needed funds.
Many thanks to everyone for your donation, be it $20 or $1,000, including the Czech Ministry of Foreign Affairs' Grant Program for Czechs Living Abroad, the Adjunct Professional Development Fund at New York University, the Czechoslovak Society of Arts and Sciences, New York Chapter; and private donors including Josef Balaz and Ludmila Hess Schwarzenberg. We are also very grateful to Václav Cvrček, director of the Czech National Corpus Institute (ÚČNK) for technical assistance.
HOWEVER, there is still a lot of work to be done and WE NEED TO RAISE AN ADDITIONAL $2,600!
We hope you will join other sponsors and contribute funds to help complete, test and launch the application by the end of 2014. Your donations are tax-deductible in the USA. All sponsors will be listed on the application and in all promotional texts.
WILL YOU HELP?
You can send your tax-deductible contribution
1. By a secure payment to the CSAS' PayPal account with your credit or debit card: