Wednesday, MAY 30, 2018 at 7pm
Bohemian National Hall, 3rd floor
321 E 73 St, New York City
RSVP: newyork@svu2000.org
Join us for an evening with Vít Horejš who will discuss subversive puppet activity over three centuries and demonstrate magic marionette manipulation. The presentation will be followed by a screening of the award-winning documentary film Faust on a String, which traces the history of the centuries old Czech marionettes–sleeping beauties that came back to life – at Jan Hus Church on Upper East Side in New York City.
Vít Horejš is the Artistic Director of Czechoslovak American Marionette Theatre (CAMT) based in New York City. He is currently working on his next production "Duke Oldrich & Washerwoman Božena, the True Story", a non-traditional staging of a traditional marionette play based on the story of love at first sight; and featuring the 11th century Duke who disregarded class boundaries in his marriage but forgot to mention some minor relationship details to his beloved. The show will run in November 2018 at the Jan Hus Playhouse. Visit czechmarionettes.org for more information.
* Czech and Slovak puppetry has been declared an Intangible Cultural Heritage of Humanity by UNESCO in 2017.
In cooperation with the Consulate General of the Slovak Republic.
Free and open to the public.
Suggested donation $5.00
Light Refreshments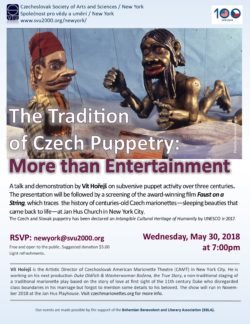 Our events are made possible by the support of the Bohemian Benevolent and Literary Association (BBLA).