Thursday, September 20, 2018, at 7 pm
Bohemian National Hall, 3rd fl.
321 E 73 St, New York City
RSVP
Free. Suggested donation $5.00
Illustrated presentations by Meghan Forbes, Ph.D., and the artist Gabriel Levicky. Organized as a part of the centennial celebration of the founding of Czechoslovakia in 1918.
In the period between the two World Wars, various artistic and poetic strategies in Europe reflected the absurdity of recent violence and optimism for a more utopic future. In this brief window of openness on the continent, artists and ideas moved and mingled, and movements like Dada and Surrealism spread from one major city to another. Prague was a capital of these interactions and exchanges, and the Czech leftist avant-garde participated notably in the art production of the period. Encounters with visiting Dadaists in the early 1920s from Germany and Yugoslavia, and the formation of a group of Czech Surrealists in the mid-1930's, mark but a couple of such examples.
The evening is dedicated to the legacy of this rich art historical past, as Meghan Forbes offers an overview of some manifestations of Czech Dada and Surrealism in the work of Karel Teige, Vítezslav Nezval, Jindrich Štyrský and Toyen, and the Slovak artist Gabriel Levicky presents his collage works Gablevages that carry the surrealist DNA. Moderated by Christopher Harwood, Ph.D., Columbia University, with a Q&A to follow.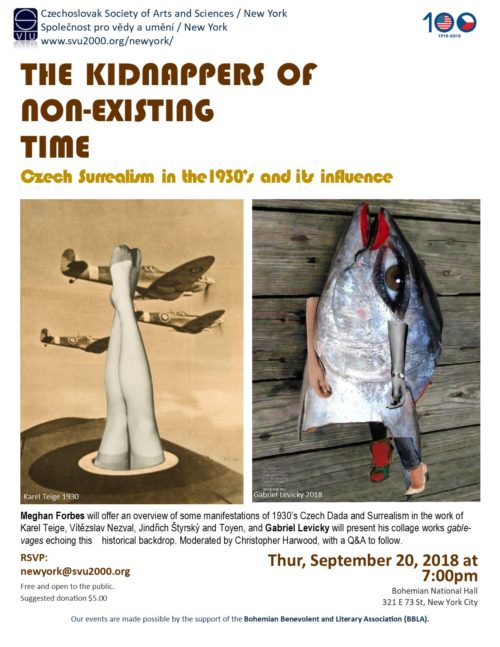 Meghan Forbes is the C-MAP Fellow for Central and Eastern Europe at The Museum of Modern Art, New York and a Visiting Scholar at NYU's Institute for Public Knowledge. She received her Ph.D. from the University of Michigan, Ann Arbor in the Department of Slavic Languages and Literatures, where she completed a dissertation titled "In the Middle of It All: Prague, Brno, and the Avant-Garde Networks of Interwar Europe." Meghan has received numerous grants and fellowships for her research, including an IIE Fulbright award for the 2015-2016 academic year. Her translations from the Czech and Slovak, book and exhibition reviews, and essays have appeared in publications such as Um?ní/Art, post at MoMA, Hyperallergic, Words Without Borders, the Los Angeles Review of Books, and Literary Hub, and she is the sole editor of the volume, International Perspectives on Publishing Platforms: Image, Object, Text, forthcoming in early 2019 from Routledge. Meghan is also founder and co-editor of the not-for-profit small press imprint harlequin creature.
Gabriel Ariel Levicky, GabLev '18 is an artist, poet, translator and NYC tour guide. His cartoons, poetry, and collages gablevages reflect a strong DaDa/Surreal influence, employing humor, sarcasm and self-mocking. Born in Humenne, Eastern Slovakia, he studied in Bratislava where he joined a dissident group opposing the communist regime and signed the Charter 77. Until 1979, his work was published in Czechoslovak and international magazines and newspapers. Later as a result of increasing persecution by the STB secret police, he was forced to leave Czechoslovakia. Before settling in New York, he lived in California where he earned his BA in international relations at San Francisco State University.