Tuesday, MAY 21 at 7 pm
Bohemian National Hall
3rd fl
321 E 73 St, NYC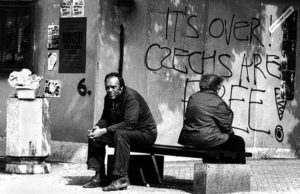 Curated and moderated by Vera Dvorak.
PHOTOS on SVU NY Facebook
PANELISTS
André Fenton is a professor of neuroscience at New York University. He heads the Neurobiology of Cognition Laboratory, which studies how the brain stores experience as memories. Among other, the lab investigates the mechanisms of cognitive dysfunction in schizophrenia, intellectual disability, and autism. It uses various tools, including genetics and molecular biology, recording of the brain's electrical activities, neural imaging, quantitative behavioral studies of animals, and computer models. André first came to Prague from Canada, in early 1991 to work in the Institute of Physiology and to teach English at the Czech Technical University. He was inspired to become a scientist and after one and a half years, he left Prague for graduate school in New York. In 1997, he returned, this time as a visiting scholar to direct the Laboratory of Neurophysiology of Memory at the Czech Academy of Sciences. He lived in Prague intermittently until 2005. During his stay, he co-founded a neurodiagnostic company, BioSignal Group, of which he is still the President. He is now starting new collaborations with Prague scientists.
Maura Griffin is the founder and CEO of Blue Spark Financial, an investment advisory firm focused on helping women in life transitions such as divorce, widowhood, or retirement. She graduated with a B.A. in literature from Georgetown University and earned her M.B.A. at Columbia University. She splits her time between Manhattan and the Berkshires of Massachusetts. Maura started her career as a journalist, which led her to Prague. She worked at the Prague Post as a reporter in 1992 after working at the Associated Press in the US. In 1993, along with four friends, Maura started The Globe Bookstore & Coffeehouse – which is still running now. She was married and had her son Calvin in Prague. Maura and Calvin moved back to the States in 1996.
Rob Lewis is a veteran speechwriter and strategic communications advisor. He currently writes for the Chairman and CEO of IBM. As Assistant Commissioner at the NYPD from 2002-2014, he served as chief speechwriter to two New York City Police Commissioners. He was also Special Advisor and chief speechwriter to the Commissioner of the U.S. Customs Service in Washington, D.C. from 1999-2002. Prior to these roles, he was External Relations Manager at Fiat U.S.A. and Special Assistant to U.S. Senator Daniel Patrick Moynihan. In 1993, while pursuing his master's degree at Tufts University's Fletcher School of Law and Diplomacy, Rob completed a summer internship at the U.S. Embassy in Prague. He was assigned to the Economics Section, where he researched and wrote diplomatic cables on various economic issues related to the Czech Republic's post-communist transition, including the so-called voucher privatization. This experience served as the basis for a thesis paper he subsequently wrote on challenges to the privatization of large Czech industries.
….
Thank you, Eva Giannone, for her amazing pastries! https://www.facebook.com/cookiesbyevanyc/