Thursday, MARCH 7, 2019 at 7pm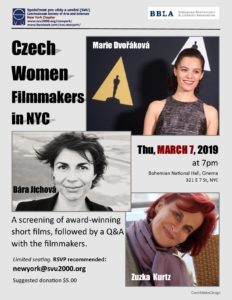 A screening of award-winning short films made by three brilliant Czech women filmmakers living in New York City:
Marie Dvoráková, Bára Jíchová Tyson and Zuzka Kurtz. The screening will be followed by a Q&A with the filmmakers.
MARIE DVORÁKOVÁ , director and writer, born in Jablonec nad Nisou, is a graduate of the Prague Film School, (FAMU) and holds a master's degree in film directing from NYU's Tisch School of the Arts. Her narrative and documentary shorts have screened and received awards at different film festivals worldwide. She currently serves as director of programming at the Czech Center in New York. She is the winner of the Student Oscar prize (with the short film Who's Who in Mycology, 2017 – presented tonight) being just the second Czech to win it after Jan Sverák in 1989. She is also the recipient of the 2011 Spike Lee Production Fund Award. In 2010, she received the 16th Annual Student Filmmaker Award by the Director's Guild of America (Steenbeckstory), and grants from the Sloan Film Production and the Jerome Foundation. Her work was shortlisted for the AICP Awards in New York and for the 2010 Cannes Young Director Award. Her current project is a documentary film about NY- based Czech photographer Marie Tomanova.
BÁRA JÍCHOVÁ TYSON is a filmmaker, photographer and artist from Ceské Budejovice in the Czech Republic. She is a 2016 recipient of The MacDowell Colony fellowship. Her short documentary film The Hatch House (presented tonight) was selected for the 2016 ADFF in NYC and the American Documentary Film Festival in Palm Springs in 2016. She has been exhibiting her 2D work and photography in solo and group shows including at the Greene Naftali Gallery, Salon Ciel, BBLA and Pocket Utopia. Bara was the art director of Now, Forager, a feature film by J. Cortlund and J. Halperin, which was a nominated for a Gotham Independent Film Award in 2012. Her most recent film Organ Player, was selected for Sundance Film Festival 2018. She has just finished her first feature film Talking About Adultery. The film was invited to 2016 DocuWork-In-Progress Lab at DCTV in NYC and is currently being considered by major documentary film festivals.
ZUZKA KURTZ is a Prague born multi-media artist and filmmaker residing in NYC. She wrote and directed the Off-Broadway dance and puppetry performance My Inner Sole, 2010 and a collection of nine short films 7 Ways 2 Skin a Cat, 2013, screened at Anthology Film Archives in NYC. Her first short documentary Blade #1, shot in Brooklyn NY and produced in collaboration with Geoffrey Hug, was awarded the Best Short Documentary at The Art of Brooklyn Film Festival, NYLA International Film Festival, Spotlight Film Awards and at the Atlanta DocuFest, and screened internationally at a variety of film festivals and PBS. Zuzka produced and directed mini shorts Eat Something and The Seamstress, 2015, both winners of Best Shorts at the Int'l Film Festivals in Milan and Rome, and Multi Species Family, 2016. Currently, she is producing a four-year documentary film The Hudson Project Documentary with Geoff Hug, to be released in 2021.