Wednesday, JUNE 19, 2019 at 7pm
Bohemian National Hall, 3rd fl.
321 E 73 St, New York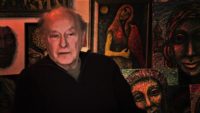 Life + Art + Science
A screening of a documentary film Tibor Spitz (2015, 42 min, in Slovak with English subtitles) presenting a unique Slovak American artist and scientist.
Born in Dolný Kubín in 1929, he survived the Holocaust as a teenager. Later, he earned his PhD in chemistry. After escaping from communist Czechoslovakia in 1968, he worked as a scientist and engineer in glass, ceramic and hi-tech industry. He is an inventor, author of many patents and publications, motivational lecturer, and internationally published artist.
Mr. Spitz will be present for Q&A.
RSVP: newyork@svu2000.org
Suggested donation $5.00
Light refreshments
In cooperation with the Slovak Consulate General in New York.