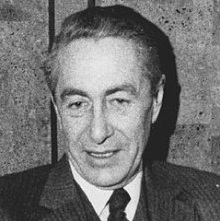 Francis Schwarzenberg, a former Czech diplomat and a professor of political science for 30 years at Loyola University in Chicago, died in the age of 78 on March 9, 1992 in Unzmarkt, Austria.
Mr. Schwarzenberg was born on March 24, 1913 to a noble family which played an important part in the history of Germany, Austria, and the Kingdom of Bohemia which later became Czechoslovakia. His parents were Prince Karel Schwarzenberg and Princess Eleonor Clam-Gallas.
Mr. Schwarzenberg received his law degree from Charles University in Prague and was an officer in the Czech cavalry and worked in the Czech foreign ministry prior to World War II.
During the Nazi occupation, he joined the resistance, did political reporting for an underground radio station, and helped people sought by the Nazis to escape Czechoslovakia.
After Czechoslovakia was liberated by the Allies, Mr. Schwarzenberg was sent to Rome as his country`s envoy to re-establish relations with the Vatican. When the Communists took over his country in 1948, Mr. Schwarzenberg was declared an enemy of the people, and his large estate south of Prague was seized. He escaped from Czechoslovakia on the same airplane as British novelist Graham Greene.
He settled his family in Chicago and began teaching at Loyola in 1949. He became vice president of the Czechoslovak National Council of America and was a frequent lecturer and a frequent book reviewer for the Tribune.
Mr. Schwarzenberg held the French Legion of Honor, was a member of the Order of Malta, and recently received the Masaryk Order from Czech President Vaclav Havel for his support of a free Czechoslovakia during its years under communist rule.
Mr. Schwarzenberg was survived by his wife, Amalie, nee Princess Lobkowicz; two daughters, Ludmila, and Baroness Isabella von Harnier of Munich; a son, Jan; four grandchildren; one step-grandchild; two half-brothers; and a half-sister. Services were be held Sunday in Murau, Styria, Austria.
-Chicago Tribune
Francis Schwarzenberg was one of the founding directors of the Czechoslovak Society of Arts and Sciences, and he also served as its President in the years 1972-1974.
-G.E.
František Schwarzenberg on Wikipedia (in Czech)