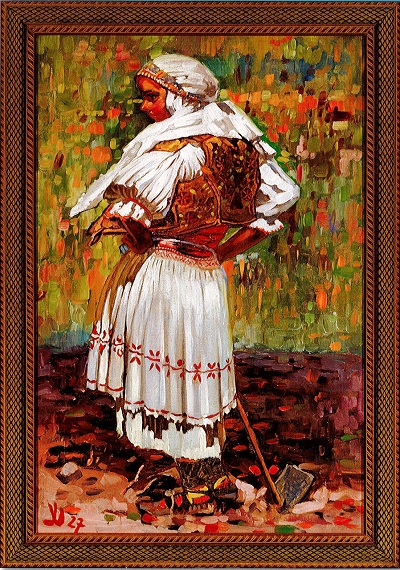 OCTOBER 13, 2018 – MARCH 24, 2019
This is the first exhibition of the artwork of Joža Uprka in the United States. The NCSML will present stunning oil paintings, posters, and mixed media on loan from SVU distinguished member of long standing George Drost, chairman of the NCSML board of trustees.
SVU members in good standing have received an email invitation to the grand opening taking place on October 12.
Joža Uprka (b. 1861 in Kněždub, d. 1940 in Hroznová Lhota) was a Czech painter and graphic artist, whose work combines elements of Romanticism and Art Nouveau to document the folklife of South Eastern Moravia, but to be concrete, we speak about these areas:
Horňácko, Hustopečsko, Kloboucko (Klobouky u Brna), Kyjov – Kyjovsko, Lednice – Valtice, Luhačovice & Luhačovské Zálesí, Pálava & Nové Mlýny, Podluží & Hodonín, Strážnicko, Uherské Hradiště & surroundings, Uherský Brod & surroundings, Veselí nad Moravou – Veselsko & Ostrožsko, Zlín & surroundings. Areas proud of their folk traditions, areas particularly well maintained and developed. It is to note that the founder of Czechoslovakia Tomáš Masaryk was from Hodonín, and the SVU founder Jaroslav Němec was from Ořechov u Uherského Hradiště, proud of this region that is known as Slovácko.
More info about the exhibition: NCSML
Learn more and see photos – links to Joža Uprka Gallery in Uherské Hradiště: