To honor the founder of SVU, JUDr. Jaroslav Němec, a memorial is to be raised in the center of his beloved hometown.

The monument will be unveiled on October 20, 2018. Contact headoffice@svu2000.org for details.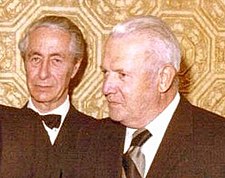 JUDr. Jaroslav Němec
b. March 23, 1910 in Ořechov
d. October 7, 1992 in Washington DC
Jaroslav Němec na české Wikipedii
Jaroslav Němec – vlastnoruční životopis
Proslov Dr. Jaroslava Polacha, 17.10.1992
Appreciation by Dr. Jaroslav Polach, 1992
Vzpomínka Ladislava Hartmana, Národní osvobození

Grave of Dr. Jaroslav Němec in Ořechov.