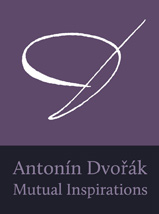 The Czechoslovak Society of Arts & Sciences is proud to be a partner of the MUTUAL INSPIRATIONS Festival 2011, honoring the 170th birthday of composer Antonín Dvořák.
The Mutual Inspirations Festival
is an initiative spearheaded by the Embassy of the Czech Republic, under the patronage of Czech Minister of Foreign Affairs Karel Schwarzenberg, focusing on the mutual inspirations between Czech and American cultures.
The festival is founded on the idea of giving rise to an "all American community project," taking place at cultural, religious, and educational community centers through a variety of forms, such as music, art, dance, film, and literature. Through the celebration of the work of many famous personalities and the creations of individuals they in turn influenced, the festival aims to depict this long tradition of transatlantic inspiration and interpretation. Each year, the focus of the festival will be on different personalities, for example: Mutual Inspirations Festival 2011 – Antonín Dvořák, Mutual Inspirations Festival 2012 – Miloš Forman, etc.
Read more and check the calendar of events on a dedicated website launched by the Czech Embassy in Washington D.C. at http://www.mutualinspirations.org/