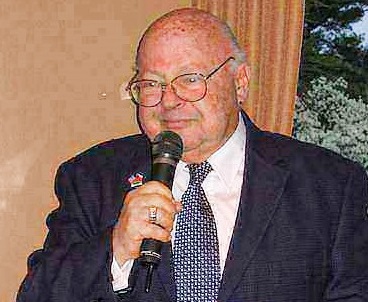 * February 5, 1928, Brno
+ June 7, 2007, Fairfax, VA
Metallurgist, Philatelist, Honorary Citizen of the City of Telc
Hanus Henry Hahn was born in Brno only because his mother stayed at the maternity hospital there. Until the age of twelve, he lived in Telc, where his father co-owned a grain and seed trade HERMAN HAHN & SONS. In Telc, that he considered to be his home town, he started a grammar school in 1939.
In January 1940, his family succeeded to escape from holocaust through Italy, Spain, and Cuba to the United States (1941). There he went to high school and graduated at the Massachusetts Institute of Technology (MIT), where he studied Materials Science and Enginnering. He got his PhD there in 1956. He worked in his profession at Curtis Wright and he also took part in cosmic research at MELPAR, renowned US government contractor in Washington DC.
Henry Hahn Hahn specialized in plasma titanium injection for metals and other materials. His works obtained several US patents and allowed formation of the new generation of dental and joint implants. At the top of his career, he established his own research institute.
He was known not only as a scientist, but also as a world-renowned philatelist. In his time, he assembled on of the best collections of the Czechoslovak postal stamps. As a respected expert and a US delegate, he regularly participated in world philately fairs. For a number of years, he was President of the Society for Czechoslovak Philately and he served as Editor-in-Chief of the philately magazine The Czechoslovak Specialist, to which he also contributed frequently.
In 1993, the City Council of Telc granted to Henry Hahn a designation of the Honorary Citizen of Telc, for his contributions to restoration of historical monuments and for his support to the City in dealing with international organizations. His works History of Postal Services in Telc, published first in the United States, and in 2003 also in Czech (Historie poštovnictví v Telči a okolí) at his own cost, made an indelible footprint in the history of the city of Telc and of the Czech Philately.
Together with his wife Marilyn, Henry Hahn was an active member of the Czechoslovak Society of Arts & Sciences (SVU). Among other contributions of his, he organized a unique philatelic exhibition at the Society's 13th World Congress held at the Northeastern University in Boston (1986).
kindly submitted by Mr. Oldrich Zadrazil, Chronicler of the city of Telc
translated by G.E.