We have just learned a sad news of the sudden death of Zdenek Slouka, a former SVU President and a dear friend, on December 23, 2012.
Zdenek Slouka clearly made an imprint on SVU, particularly during his tenure as the first Executive Director of the newly established SVU Research Institute.
Zdenek was born on August 13, 1923 in Brno where he completed Real Gymnasium in 1943. During the last year of the war he participated in the London-connected resistance underground unit G4 in the Bohemian-Moravian Highlands (Českomoravská vysočina).
In 1945-48, he studied sociology at Masaryk University and concurrently served as editor of Svobodné (Lidové) noviny. In 1948, after the takeover of Czechoslovakia by the Communists, he escaped abroad and subsequently emigrated to Australia where he eventually worked as a librarian in the National Mitchell Library in Sydney. After his return to Europe in 1952, Slouka was engaged as a political analyst, attached to the US Army Information Exchange Control Section in Mannheim and Munich. At the same time, he studied at the  University of Maryland Overseas Program in Heidelberg. In 1954, he was transferred as a US Federal employee to Washington, D.C., serving at the Pentagon. The next year he joined the Radio Free Europe-New York as an international commentator. During this period, Slouka also studied political science at New York University (M.A.,1958) and at  Columbia University (Ph.D., 1964).
Zdenek started his university teaching career at Adelphi University even before the completion of his doctorate. Upon his graduation, he joined the faculty of Columbia University and served as a co-chairman of its Department of Political Science until 1971, when he returned to Washington, D.C., for one year as a Senior Fellow at the Woodrow Wilson International Center for Scholars.
In 1972, while still serving as the Barnette Miller Visiting Professor of Political Science at Wellesley College, Mass., Slouka joined the faculty of Lehigh University at Bethlehem, PA, in the Department of International Relations. He chaired the Department for two terms, became the B.& B. Cohen Distinguished Professor of International Law and Relations, and established at Lehigh a new Institute of International Relations, serving as its Director. Under the Institute, he opened the public Cohen International Lecture Series and between 1988 and 1991 personally arranged for the participation of distinguished lecturers: Zbigniew Brzezinski, the Security Advisor to President Carter; Robert S. McNamara, US Secretary of Defense and later the President of the World Bank; Valéry Giscard d´Estaing, ex-President of France; Lord Peter Carrington, British Foreign Secretary and Secretary General of NATO, and Václav Havel, President of Czechoslovakia.
Among his publications are books: International Custom and the Continental Shelf: Dynamics of Customary Rules of International Law; International Dimensions of American Education; World Education in American Schools; International Dimensions of Engineering; Education and the International Bill of Rights: Lex Incognita. He was also the author of a number of book chapters and articles on the relation of international politics with science and technology and on the changing academic structure of higher education.
After the Velvet Revolution in Prague, Dr. Slouka resigned all of his functions at Lehigh University, retaining his professorial chair only, in order to devote his energies to the development of the new democratic Czechoslovakia. So as to get closer to the academic conditions in Czechoslovakia, he accepted a full-year appointment as a Senior Fulbright Professor at Charles University for his final year of teaching before retirement, for which Lehigh University granted him a year-long sabbatical as a farewell gift.
Most of his work for Czechs and Slovaks throughout the 1990´s was done with and through the SVU. I have known Zdenek for many years, since the early seventies, when he lived in Washington, or it may have been even earlier. I remember him visiting me often in the State Department building and later in Rosslyn, Virginia, where my office was located. This was a beginning of our close and long-lasting friendship.
He became active in SVU, starting as the Society´s Vice President in 1990, a post to which I selected him as the Chairman of the Nominating Committee. Simultaneously, at my recommendation, he assumed the chairmanship of the Planning and Coordinating Council within our newly established SVU Commission for Cooperation with Czechoslovakia.
After a year, he relinquished his post as Vice President in order to accept the appointment as the first Executive Director of the activated SVU Research Institute. In this capacity, he visited Czechoslovakia and its succession states many times in order to expand cooperation between the US and the Czech and Slovak universities. Slouka organized and obtained financial support from US foundations for a five-year series (1992-1997) of extended workshops (each for a number of weeks) for Czech and Slovak institutions and their professors, to assist them in linking their scholarly and scientific work with their counterparts in the US and other advanced countries, and he himself participated in several. I had the pleasure of working with him in these highly successful workshops and many of them I actually directed. These workshops belong among the best moments of my life.
To do the needed work, Slouka developed excellent contacts in Czechoslovakia, practically with all major institutions of higher learning, including the Academies of Science, and close personal relations with their leaders. Similarly, he was no stranger to the political corridors. In 1991, he worked with Alexandr Vondra and Michael Žantovský on the preparation of the 1991 visit by President Václav Havel to the United States.
In an effort to promote closer cooperation between SVU and other American organizations with comparable aims, Slouka became a member of the governing boards of Charter 77 in New York and of the American Czech-and-Slovak Education Fund, as well as of the Center for Independent Journalism in Prague, established by a Foundation of The New York Times with which he cooperated. He also worked closely with the  International Research & Exchange Board (IREX) and with the Institute of International Education in New York. In 1992, he was awarded a Silver Medal by Charles University and, in the same year, the Josef Hlávka Medal by the Czechoslovak Academy of Sciences.
With such credentials, no wonder that he was easily elected SVU President for the 1992-1994 term and had it not been for his temporarily impaired health following a heart attack and a massive heart surgery, he would have been asked to serve for another term.
In the last years, Zdenek Slouka lived with his wife Blanka in Prague, fully immersed in what was his first work of love – journalism. A member of the Editorial Board of Literarní noviny, he also worked closely with Lidové noviny and with the weekly Respekt, writing mostly essays and commentaries. In 2009, the Academy of Sciences of the Czech Republic published his personal memoir Jdi po skryté stopě – Lidské kroky krajinou exilu (Follow the Hidden Trail: A Man´s Steps through the Political Land of Exile).
Zdenek Slouka's death is a great loss to SVU and to all of us, who were his close friends.
MR

Ještě jsem tady … ČT 2 VIDEO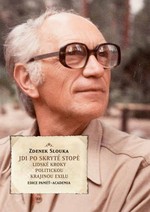 Jdi po skryté stopě
Útěky
Zdenek Slouka served as SVU President in the years 1992-1994.