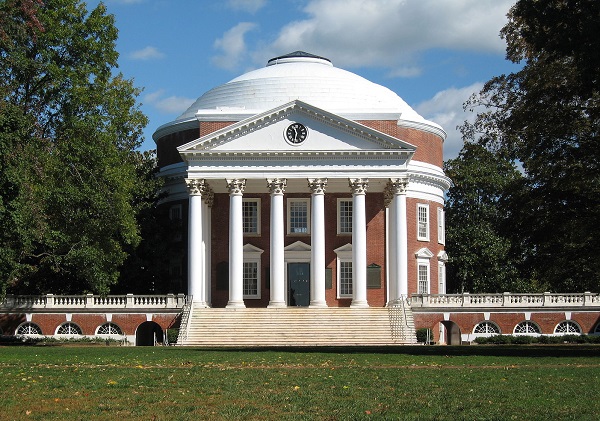 The venue: University of Virginia in Charlottesville, VA
Conference Services staff will check-in guests in the lobby of Venable House from 2-4 p.m. on Friday, July 17, 2015. All guests checking in outside of those hours will come to the Conference Services office located in Page House in the McCormick Road Residence Area.
CONFERENCE INFORMATION HANDOUT (PDF)
The theme for this year's conference is:
"Contributions of Women on Both Sides of the Atlantic".
However, proposals should not be limited to this subject. Please send your paper proposals and abstracts to Hugh Agnew, program chair, by the end of June at SVUConference2015@gmail.com
SCHEDULE OF EVENTS:
Friday, July 17, 2015
2 – 4 p.m. Registration and dorm check-in, Venable House
5 – 6:30 p.m. Dinner on your own. There are many restaurant options on University Avenue, known as "The Corner."
7 p.m. Social Reception, Garret Hall
Saturday, July 18, 2015
ongoing Registration, Monroe Hall
9 – 9:30 a.m. Conference welcome, Monroe Hall
9:30 – 12 p.m. Academic program, Monroe Hall
12 – 1 p.m. Lunch on your own at "The Corner"
1 – 4 p.m. Academic program, Monroe Hall
4 – 5 p.m. General Assembly Meeting, Monroe Hall
5 p.m. Guided walking tour of UVA Academical Village, meet at bus stop near Monroe Hall
7 p.m. Conference Banquet, Garret Hall
Sunday, July 19, 2015
9 – 12 p.m. Academic program, Monroe Hall
12 – 1 p.m. Lunch on your own at "The Corner"
2 – 4 p.m. Monticello Group Tour, meet at Monroe Hall, carpool with local members
We gratefully acknowledge the support of the
Frank Batten School of Leadership and Public Policy,
Department of Slavic Languages and Literatures at the University of Virginia,
The U.Va. Center for Russian, East European and Eurasian Studies, and the
Virginia Czech/Slovak Heritage Society.
ACCOMODATIONS:
For on-grounds accomodations, see REGISTRATION.
For other accomodations, make arrangements on your own, contact hotel directly! For participants who prefer a nearby hotel, the Cavalier Inn is a half mile walk to Monroe Hall.
Cavalier Inn, 105 North Emmet Street, Charlottesville, VA 22903 Phone: (434) 296-8111
LOCAL ARRANGEMENTS CONTACT PERSONS:
Bruce Vlk at bruce.vlk@virginia.edu and Natalie Masri at nsmasri@gmail.com.