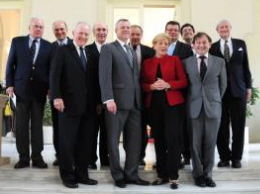 Czech-American Relations
through the Eyes of Envoys
Symposium at Prague's Czernin Palace, October 7, 2011
Upon invitation by Foreign Minister Karel Schwarzenberg, five Czech and five U.S. Ambassadors participated in the informal discussion (sorted by timeline):
William H. Luers (1983–1986), Michael Žantovský (1992–1997), Alexandr Vondra (1997–2001), John Shattuck (1998–2000), Martin Palouš (2001–2005), Craig R. Stapleton (2001–2003), William J. Cabaniss (2003–2006),
Petr Kolář (2005–2010), Norman L. Eisen and Petr Gandalovič (from 2011). The debate was chaired by Mrs. Wendy W. Luers, Founder and President of the Foundation for Civil Society.
You can get the syposium brochure, photos, and the video recording here.