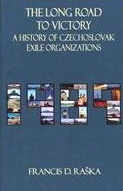 A new book by Francis Raška, entitled The Long Road to Victory: A History of Czechoslovak Exile Organizations, was released by East European Monographs in November 2012 and is distributed via Columbia University Press. The volume, a sequel to Raška's earlier book on the Council of Free Czechoslovakia, deals with the Czechoslovak exile after 1968.
As different groups held different positions on various issues, the author sheds light on the personalities and positions of leading figures, such as Council of Free Czechoslovakia leader, Mojmír Povolný, the leader of the Listy Group, Jiří Pelikán, and journalist, Pavel Tigrid, throughout the last twenty years of the Cold War. Particular emphasis is placed on the impact of the Helsinki Accords on the activities of exile organizations and how these activities kept the Western politicians and public informed of Communist misdeeds in Czechoslovakia. In addition, the activities of other exile organizations and publishing houses are analyzed. Interviews and opinions of some surviving participants in the the exile movement are included as are documentary photographs. This book represents a vivid portrayal of the last twenty years of exile accomplishments.
Raška, Francis D., The Long Road to Victory: A History of Czechoslovak Exile Organizations, East European Monographs, Boulder, 2012.
ISBN: 978-0-88033-706-9
250 pp., 37 photographs
Members of SVU can order the book for 40 dollars in the United States and 45 dollars in Canada.