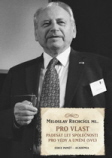 Nakladatelství ACADEMIA právě vydalo v edici Paměť dlouho očekávaný titul
  PRO VLAST: PADESÁT LET SPOLEČNOSTI PRO VĚDY A UMĚNÍ
Jedná se o český překlad díla Miloslava Rechcígla ml. vydaného v angličtině s názvem On Behalf of Their Homeland: Fifty Years of SVU.
Knihu je možné objednat se slevou online zde,
případně zakoupit či objednat v těchto knihkupectvích.